Tag: Make It Count Conference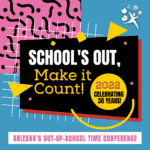 Attention Groups of 10 or more – there are only 5 more days!
You can register for only $112 a person through September 30.
To register your group at the discounted rate send a completed registration form to sfeldman@azafterschool.org
Click here to download the registration form!
Note: it will download onto your computer, you will not view the form before it downloads. You will have to open the document on your computer.
Once your group names are entered, each group member will receive an email to complete their individual registration–
including lunch options.