Tag: lowell observatory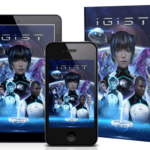 Come meet IGIST author L.S. Larson, as well as chief illustrator Yujin Jung, and a special guest at the Lowell Observatory for students in middle school and high school from 4 to 5 p.m. Saturday, Jan. 19 at 1400 W. Mars Hill Road, Flagstaff.
IGIST is the newest YA series sweeping the country.