Tag: lowell observatory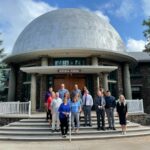 While many companies and organizations Step Up for Our Community through their workplace campaigns for UWNA, some take an extra step by becoming Pacesetters; they hold their workplace fundraisers in the month prior to the official annual campaign to help jumpstart it.
One of the most successful at this is Lowell Observatory, where typically 25% to 30% of the 163 employees participate in the Pacesetter campaign each year.
The person responsible for this pre-campaign effort at the observatory is Mattie Harrington. She's the Executive Assistant to the Executive Director Jeff Hall; Director of Philanthropy Lisa Actor; and the observatory's Sole Trustee, W. Lowell Putnam IV, the great-grandnephew of its founder, Percival Lowell.
The Pacesetter fundraising outreach is conducted primarily via email, she said, with her sending out a communication to the staff once a week reminding them of the work UWNA supports in early childhood education, youth development, and crisis response.