Tag: Lina Wallen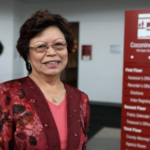 Lina Wallen did not believe it when she received a call nominating her to be the Arizona Daily Sun's Female Citizen of the Year for 2018.
Wallen said people had joked with her before about the prospect, but when a former winner actually called her formally announcing her selection, she was in disbelief. A group of former winners populates the committee that selected Wallen for her strong and committed community activism.
"I couldn't donate a million or a billion dollars, but I have time and I have expertise. That's the way I give back," Wallen said.