Tag: LAUNCH Flagstaff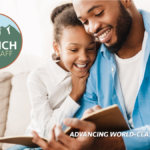 I'm writing on this day when we pause to celebrate the Rev. Dr. Martin Luther King, Jr.  Our Nation is again wrestling with its soul, trying to come to terms with its past, its present, and who we want to be in the future in the hope that we can live up to the creed that all people are created equal.
 
Every individual brings unique talents, skills, and gifts into this lifetime.  This is a beautiful thing, but it conflicts with one definition of equality: sameness. How can we all be the same (equal) when we are each uniquely different?  We cannot.