Tag: Lasting Indigenous Family Enrichment (L.I.F.E.)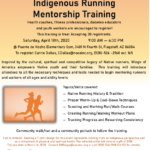 Indigenous Running Mentorship Training will be held from 9 a.m. to 4:30 p.m. Saturday, April 18, Puente de Hozho Elementary Gym, 3401 N. Fourth St., Flagstaff.
Health coaches, fitness professionals, diabetes educators and youth workers are encouraged to register! This training is free! Accepting 30 registrants.