Tag: Lake Powell Life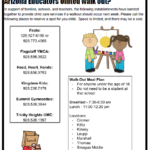 Pending final approval this week by state lawmakers of a budget that could expand the state's education budget and increase teacher pay, educators in many school districts in Coconino County and statewide could return back to the classroom as early as Friday.
Teachers in many school districts statewide walked out of their classrooms Thursday, April 26 as part of the #RedforEd movement. Since then, hundreds of educators and supporters have been seen carrying signs and wearing their signature protest color t-shirts from the lawn at the Flagstaff City Hall to the thousands gathered in Phoenix.