Tag: Lake Powell Chronicle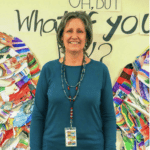 It's early December and Jenise Bartholomew's classroom is taking on the feeling of Christmas. A Christmas tree is already standing, and a few other Christmas decorations are starting to appear on the walls.
On another wall, each student is spotlighted as a "star student" with a flower that is displayed with their picture. The other students have written something nice about that student on the flower petals.
Outside Bartholomew's classroom, the walls of the first-grade hallway have been decorated to look like train cars of the Polar Express. The faces of each student appear in each train car window. Bartholomew and the other first-grade teachers stayed after school on Dec. 1 to create the Christmas art installation.
Bartholomew likes her classroom to be colorful and organized, the latter not always an easy task with a room full of first graders. And right now, her classroom has that extra buzz of energy that every classroom in America has right now, during the spirited period between Thanksgiving and Christmas. 
All in all, the room has a nurturing, caring atmosphere.