Tag: lagstaff Shelter Services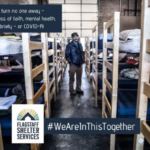 During this pandemic, we have been advised to stay at home to help prevent the spread of the coronavirus. But what does that mean for people who are homeless or worry that they could lose their shelter during this uncertain time.
The United Way of Northern Arizona (UWNA) recently awarded a total of $45,000 to Flagstaff Shelter Services and The Salvation Army, front line local responders dealing with the issue of providing shelter or keeping people in their homes.