Tag: KinderCamp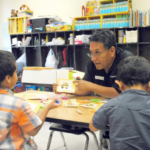 By the United Way of Northern Arizona
Today is the first day of school for several districts in Northern Arizona and it seemed like a great time to share with you the phenomenal success of this year's KinderCamp™.
For several weeks during this summer more than 260 children were part of the innovative program to ensure that children have the skills and confidence they need to be successful when they enter kindergarten.
The children came from all over Northern Arizona – Fredonia and Flagstaff, Winslow and Williams, Page and Pinetop-Lakeside. There was a total of 16 classrooms at eight different sites.