Tag: KinderCamp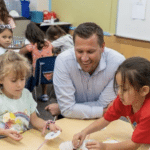 Summer always is a special time, and for me one of the biggest highlights of the season is visiting KinderCamp classes.
It is always magical watching four- and five-year-olds gaining the confidence and skills they need to make a successful start in kindergarten.
KinderCamp is one of United Way of Northern Arizona's signature programs to Step Up for Our Youth, and judging from the parents' comments you'll see below, it is making a huge impact in the lives of our students.
Many thanks to our partners – and to individual donors like you – who make this program possible.