Tag: KinderCamp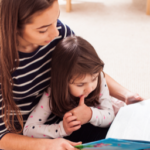 COVID-19 has caused changes and adjustments to all aspects of our lives, and the KinderCamp™ program, one of United Way of Northern Arizona's signature initiatives to Step Up for Our Youth, is no exception.
Over the past 15 years, this month-long summer session has prepared more than 4,000 incoming kindergarten students academically, socially and emotionally so they are ready to embark on the lifelong adventure of learning. Children are referred to the program if it is felt it would prepare them for the classroom setting and the classes are provided at no cost to the families.
This year, of course, a classroom experience is not feasible, but UWNA and its partners are making it possible for parents and caregivers to bring the program into their homes.