Tag: Juneteenth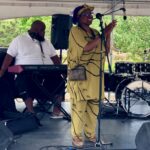 A couple of pre-monsoon season downpours didn't dampen the spirits of participants of the 2022 Juneteenth Celebration held Saturday, June 18 at the Flagstaff Murdoch Center.
The event featured musical performances, food, games, arts, crafts and information booths including Building Community, Coconino Coalition for Children & Youth, Coconino Community College, Coconino County including its African Diaspora Advisory Council and Coconino Hispanic Advisory Council (CHAC) diversity councils, Flagstaff Police Dept., Friends of Flagstaff Future, Northland Family Health Center, Northern Arizona University and North Country Healthcare.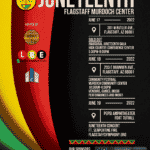 Also see Juneteenth Concert on June 19 at Fort Tuthill
FLAGSTAFF — Come celebrate Juneteenth with music performances, food, games and vendors from 10 a.m. to 4 p.m. Saturday, June 18 at the Flagstaff Murdoch Center, 203 E. Brannen Ave., Flagstaff.
Hosted by the Coconino County African Diaspora Advisory Council, the Flagstaff Lived Black Experience Project, and the Southside Community Association (SCA).
The Juneteenth celebration commemorates the day Texas slaves learned of the Emancipation Proclamation, granting them freedom. Juneteenth today, celebrates African American freedom and achievement, while encouraging continuous self-development and respect for all cultures.