Tag: Iya Affo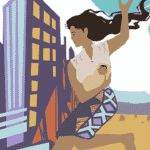 Historical Trauma Specialist Certification LEVEL 2 online training will be held at 9 a.m. Tuesday, March 1 (MST) and 4 p.m. Wednesday, March 2 (MST).
Members of the Coconino Coalition for Children & Youth will receive 20 percent off both trainings. For members to receive the promo code, contact CCC&Y Executive Director Virginia Watahomigie at virginia@coconinokids.org
Discounts are also available for those CCC&Y members who have not taken Historical Trauma Specialist Certification LEVEL 1, that focuses on intergenerational trauma and the impact of Epigenetics, cultural dispossession, segregation & displacement of BIPOC.
The sessions are presented by Iya Affo, a Culturalist and Historical Trauma Specialist.
LEVEL 2 will cover the following:
Neurological implications of Historical Trauma and how to align neurobiology with desired behavioral outcomes.
Indigenous Attachment Theory
Understanding the injurious relationship between the Western model of pathogenesis and the pervasive system of White Supremacy and its effect on BIPOC communities.
How long-standing White Supremacy ideology like "Divide & Conquer" strategies continue to impact BIPOC communities and mental health.
Fossil fuel capitalism as an extension of the Trans-Atlantic Slave Trade & Native American Genocide.
Climate change as a catalyst for violence and prolonged suffering in BIPOC communities all over the world.
Reconnection to self, a commitment to creating an environment of belonging and how we simultaneously heal BIPOC communities and Mother Earth.