Tag: inc.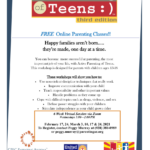 Parenting Arizona to present "Active Parenting of Teens" Free Online Parenting Classes on from 1 to 2 p.m. Wednesdays, Feb. 24, March 3, 10, 17, 24.
Happy families aren't born….. they're made, one day at a time.
You can become more successful at parenting, the most important job of your life, with Active Parenting of Teens. This workshop is designed for parents with children ages 13-18.