Tag: In-home services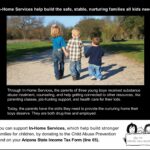 Please consider making a donation to the Child Abuse Prevention fund on your Arizona State Income Tax Return form (line 65).
The money raised supports In-Home Services that mentor vulnerable families so that children can have the safe, healthy childhoods they deserve.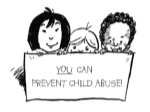 In-Home Services help parents manage conflict and stress so that children grow up in a safe, stable home," say Debra Walgren, Northern Arizona In-Home Services Program Manager. "When we strengthen families, we're ultimately strengthening the whole community."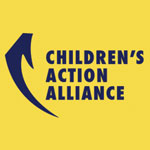 The budget Governor Ducey signed for the current year in no way reflects the demands on the agency.  Now it is up to the Governor and DCS leadership to make the case that they can target the dollars requested effectively to turn the trends around and get the crisis under control. The top priority must be to safely reduce the skyrocketing growth in foster care which is overwhelming our system and unnecessarily traumatizing children.