Tag: historical trauma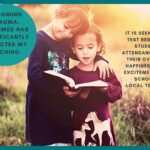 The Coconino Coaltion for Children & Youth wants to remind everyone that we have a variety of free webinar training programs on our website to help parents and families during the upcoming back to school season.
Our growing library of on-demand webinars is designed to help the public gain the tools they need to provide trauma-informed care, tips to help strengthen family protective factors, examine the effects of historical trauma and adverse childhood experiences, address issues such as bullying and the support to adults and youth through the use of mindfulness practices.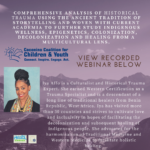 CCC&Y's Webinar Part B Historical Trauma now available by clicking here.
In Part B, culturalist and historic trauma specialist Iya Affo takes us deeper into the impact historical trauma has on so many of our community members. A topic that is not always openly discussed and well understood in mainstream society, historic trauma is often not considered when designing helping programs, systems or overall prevention programming and worse when placing judgements against groups of people. 

NACA will be hosting a round table discussion on Historical Trauma. Click HERE for more information.