Tag: historical trauma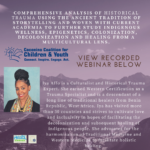 CCC&Y's Webinar Part B Historical Trauma now available by clicking here.
In Part B, culturalist and historic trauma specialist Iya Affo takes us deeper into the impact historical trauma has on so many of our community members. A topic that is not always openly discussed and well understood in mainstream society, historic trauma is often not considered when designing helping programs, systems or overall prevention programming and worse when placing judgements against groups of people. 

NACA will be hosting a round table discussion on Historical Trauma. Click HERE for more information.