Tag: Historical Trauma Specialist Certification- Level 1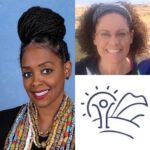 CCC&Y has agreed to partner with Heal Historical Trauma to become a historical trauma certified agency, which will include providing training to the non-profit organization during a full day level-one certification program.
"The Coconino Coalition for Children & Youth is one of few organizations ready to declare their commitment to serving communities of color with such vigor and determination. It is with extreme pride and excitement that I welcome our partnership as we work as one to create a world filled with love and equity that honors diversity and embraces all colors, shades, races, ethnicities, levels of ability and gender fluidity," said Iya Affo, founder of Heal Historic Trauma.