Tag: high school graduations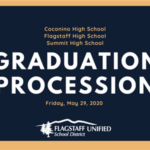 Flagstaff Unified School District (FUSD) high schools, Coconino High School, Flagstaff High School, and Summit High School, will hold graduation processions on Fourth Street in Flagstaff, Arizona on Friday, May 29, 2020.  The event will include an opportunity for graduates to be recognized while still ensuring necessary social distancing measures. 
 "We are very proud of the accomplishments and efforts of FUSD's senior students over many years." said Superintendent Michael Penca. "They are graduating under extraordinary circumstances in which they have demonstrated persistence, patience, and compassion for others.  While we all wish we could hold our traditional ceremony, we know this event will be a special celebration for our seniors, their families, and our entire community."

Briauna Leonard graduated from high school at home wearing pajamas and sitting at her kitchen table beside her cat, Mr. Pickles, watching the salutatory address that she recorded a week earlier in an almost empty auditorium. …
Now, instead of packing auditoriums, gymnasiums and football fields with graduates and their families, schools have shifted to virtual ceremonies or socially distant celebrations at drive-in movie theaters, school parking lots or the Daytona International Speedway. Some schools have delayed graduations or scheduled individual ceremonies at which a graduate can walk across a stage and receive their diploma, with just immediate family in attendance.