Tag: Heritage Elementary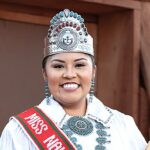 Shaandiin P. Parrish, Miss Navajo Nation 2019-2021, has been selected as the 2021 First Things First Navajo Nation Region Champion for Young Children.
The award is given to local champions who actively volunteer their time to raise public awareness of the importance of early childhood development and health.
Champions spend a significant amount of time volunteering with FTF and building public awareness about the importance of early childhood issues.
Parrish moderated the Early Childhood Speaker Series, a virtual forum in partnership with Navajo Project Indigenous LAUNCH and the FTF Navajo Nation Regional Partnership Council.
The virtual forum was designed to give parents and caregivers of young children an opportunity to increase their awareness of relevant early childhood topics. Parrish served as moderator as a regional expert discussed home visitation and early intervention strategies during this series.