Tag: Havasu News –  News-Herald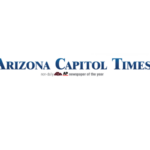 Republican House leadership is backing a plan to give teachers a 6-percent pay bump next year at the expense of Gov. Doug Ducey's proposal to restore cuts to K-12 school capital funding.
Buffeted by protesting teachers, who have threatened to strike if the Legislature doesn't provide a sizable increase in funding for Arizona public schools to bankroll salary hikes, Republican lawmakers see the proposal as a means of changing the narrative that state legislators have failed to provide teachers a decent wage.