Tag: grand canyon youth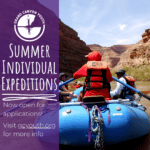 The 2023 GCY summer Individual Expeditions are now open for registration!
GCY's Individual Expeditions are unique & amazing – youth come together, raft whitewater, work as a team, and travel downstream in some of the most beautiful places in the world. Can you think of a better way to spend your summer? Youth have the chance to explore the Colorado River watershed in a way that few people see it – all while meeting new friends and collecting data for meaningful citizen science projects!
At this time, Individual Expeditions are limited to participants who are fully vaccinated against COVID-19