Tag: grand canyon youth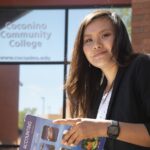 Students attending Coconino Community College for the spring semester will receive a new round of federal COVID relief funds to help them with the cost of college.
On Dec. 27, 2020, the Coronavirus Response and Relief and Supplemental Appropriations Act (CRRSAA) was passed into law. CCC will be awarding at least $552,365 in financial aid grants to students. The awards will likely range from $100 to $500 depending on the number of applicants. 
"We are thrilled to have an opportunity to continue helping students achieve their education during the pandemic through grants and specialized attention," said CCC President Dr. Colleen A. Smith. "Through generous help from others, CCC has money to help students go to college, so I encourage you to gear up for summer and fall semester and get started on your future. CCC has both in-person and virtual classes in the schedule."