Tag: Grand Canyon Library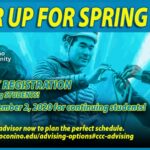 Attention CCC students – It's time to GEAR UP for the 2021 spring semester at Coconino Community College.
One week of Priority Registration is reserved for CCC continuing students beginning Monday, November 2, 2020.
Open registration for the general public begins Monday, November 9, 2020.
Spring instruction begins Monday, January 11, 2021.
Spring courses are planned to be offered via the following instructional methods*
In-person classes – limited availability
Zoom classes via video conferencing
Online web classes – 100% online courses, no set meeting times
Hybrid classes – combination of Zoom/online, and in-person/online