Tag: general election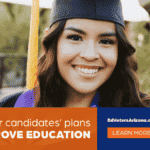 Today we're launching EdVotersArizona.org, a website where Republican Gubernatorial nominee Kari Lake and the candidates for Superintendent of Public Instruction, Republican Tom Horne and current Superintendent Kathy Hoffman, are interviewed by one of education's most important stakeholders – students. Democratic gubernatorial nominee Katie Hobbs submitted a written response.
Often, the format of candidate debates does not allow candidates to meaningfully share how they will address important education issues. The site was created to allow candidates to share their plans and ideas for addressing the education issues that Arizona voters care most about, which were identified in our recent poll.