Tag: FUSD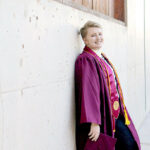 When first-generation college student Sofia Vine started out at Arizona State University in 2017, she wasn't quite sure what she wanted to study or pursue as a career.
But over the next three-and-a-half years, Vine said she truly discovered herself while developing a passion for biology, performing arts, women and gender studies, and lesbian, gay, bisexual, and transgender issues. 
Vine grew up in the small town of Page, Arizona, and chose to attend ASU because she wanted to experience new things and meet new people while staying somewhat close to home. She started her journey at ASU's West campus and decided to pursue biology with an emphasis on neuroscience, physiology, and behavior when she realized how interesting she found the human body and living organisms.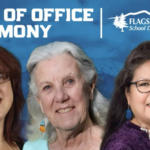 The Flagstaff Unified School District Governing Board held a virtual Oath of Office Ceremony on Monday, Jan. 4. The event was opened by FUSD Superintendent Michael Penca, who introduced Coconino County Superintendent, Dr. Tommy Lewis. Lewis then facilitated the Oath of Office in a virtual ceremony for Christine Fredericks, Carole Gilmore, and Dorothy Denetsosie Gishie noting their election at the Nov. 3, 2020 General Election to the Governing Board of the Flagstaff Unified School District for a term of four years expiring in December 2024.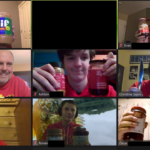 Like most things this year, Computer Science Week at Killip Elementary looked a little different. Killip held a virtual computer science celebration during the week of December 7-12 in honor of Admiral Grace Hopper – Pioneer of Computer Science – who was born on December 9, 1906. The goal of the event was to increase student interest in computer science as well as expose the crucial role that computer science plays in everyday life. Guest speakers from W.L. Gore, High Country Humane Society, and even the Flagstaff Police Department presented virtual guest talks through Zoom to students and families showing how computer science is used in their jobs.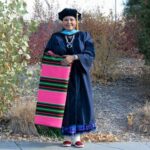 When she was in fourth grade, Esther Cadman's teacher asked her a question that changed her life: "What do you want to be when you grow up?"
It's a simple question every elementary school student has been asked, but for Cadman, this question opened the door to future possibilities, which was an idea she never had before: that she could be whatever she wanted. For that 10-year-old in Albuquerque, New Mexico, living in a home with alcoholism and domestic violence, that meant earning a doctorate.
Spoiler: She defended her dissertation a few weeks ago and on Nov. 22, she will graduate, being the first in her family to earn a Ph.D.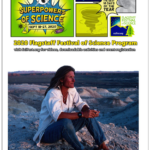 The 31st annual Flagstaff Festival of Science is nearly here, and that means it's time to participate in the "Best 10 Days of the Year." This year, we celebrate the Superpowers of Science through more than 60 FREE events for all ages from Sept. 18-27!
Each year, the Festival's all-volunteer Board of Directors works to help you indulge your curiosity. This year has presented a special kind of challenge as we tried to find ways to engage and excite you while observing social distancing, but thanks to our innovative partners and technology, we are thrilled to bring you a wide variety of fun and educational events, including online presentations, virtual workshops, classroom talks and guided tours, led by Flagstaff scientists.
This year's Festival will look a little different, but we continue to emphasize hands-on learning with free science kits; interaction with scientists through online platforms; and opportunities to explore through self-guided tours, socially distanced walks and outdoor activities.
And, as always, we will kick off the Festival with an exceptional ballet performance. On Friday, Sept. 18, the NAU Community Music and Dance Academy will present "The Caped Crusaders of Science" at 6:45 p.m., followed by our W. L. Gore & Associates Keynote Presentation with Earth scientist Christa Sadler, "Tapping into the Superpowers of Science" at 7 p.m.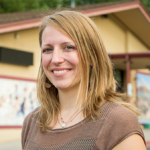 Puente de Hózhó fifth grade teacher, Jillian Hernandez, has been named as a top five finalist for the 2021 Arizona Education Foundation (AEF) Teacher of the Year. The annual Teacher of the Year program is the premier event of AEF, a statewide nonprofit organization dedicated to championing the exceptional work of public schools. The winner of the recognition will be Arizona's candidate for the National Teacher of the Year while the other four finalist candidates will serve as Ambassadors for Excellence.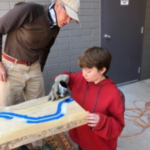 During the Spring of 2019 David Krassner's AP Environmental Science students collaborated with artist Shawn Skabelund in creating a large-scale art installation, Ancient Waters, which focused on the biological and chemical research done at Fossil Creek, April 4-6, 2019. David led his 30 students on this three day field trip, and then worked with several of them preparing the work of art.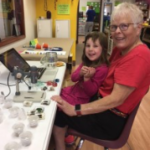 Dr. Alice Christie has dedicated her life to serving others. Currently in her 54th year as an educator, she taught in the K-12 arena for 20+ years, was a professor of education at Arizona State University for 20+ years and spent 9 years traveling to 37 states to provide STEM education workshops to over 5000 PK-12 teachers. In 2017, she founded and self-funded Tynkertopia, Inc. (a 501(c)(3) non-profit corporation in Flagstaff.
Christie, founder of Tynkertopia in Flagstaff, was named a finalist in the 2020 Viola Awards in the Excellence in Arts Education category)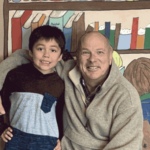 (Tod) Gilmore sees his initial tenure here as three 100-day periods. The first 100 days he has spent "getting to know the Fredonia way."
Essentially observing and learning how things are done, and why. He asks, "Do we do things the way we've always done because it's the best and proven way to do something? Or is it an inertia issue that we need to look at as a community?"
Gilmore believes graduates of FHS should know they have no limits, should know what their dreams are, and be equipped to actualize those dreams. He feels this is a virtue of being a smaller high school, "we have an incredible ability to really know our students, and the smaller class sizes can be very powerful if we take advantage of it."