Tag: FUSD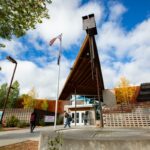 Coconino County voters have approved an increase in funding for Coconino Community College.
On Friday, during a special session, the Coconino County Board of Supervisors certified the May 17, 2022, election results for CCC's request to increase the primary property tax levy to support the college.
"On behalf of Coconino Community College, I would like to thank the voters and the many community members who worked hard to help the ballot initiative be successful," said CCC President Colleen A. Smith, Ph.D. "Because of them, we can continue our good work moving into a bright future serving students throughout Coconino County."
The election saw 20,947 ballots cast, which was about 23 percent of the registered voters in Coconino County. Of the ballots cast, the vast majority were submitted by mail. About 64 percent voted in favor of the tax reset for the college.
"It is the board's job to ensure fiscal responsibility and further your community college's mission of accessible and affordable educational programs and workforce training," said Dr. Nat White, Chair of the CCC District Governing Board. "We thank you for your confidence in helping Coconino Community College move to the next level in serving the citizens of Coconino County."