Tag: FUSD Digital Learning Hub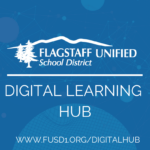 The FUSD Digital Learning Hub is now available at www.fusd1.org/digitalhub. The site will be a continuing resource to support students and families during this time of social distancing.
With the closure of all FUSD schools in response to the COVID-19 pandemic, the Flagstaff Unified School District believes it is important to continue supporting student learning opportunities regardless of location.