Tag: Full Steam Ahead Early Childhood Fair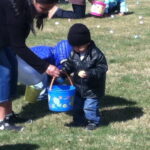 The children were lined up at the edge of the in-fields of the four baseball diamonds anxiously awaiting the word to go. When it came, dozens of youth, from toddlers though elementary school, darted toward the grass outfield to pick up as many Easter Eggs as they could find and carry at the "Full Steam Ahead Early Childhood Fair," held Saturday, March 26 at the Page Sports Complex.
Held in conjunction with the annual "Community Easter Egg Hunt," the event also drew dozens of parents who received information on child care, family resources, training opportunities from the dozen or so information tables set up at the sports facility.