Tag: Friends of Flagstaff's Future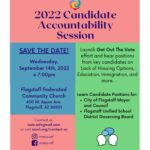 A variety of opportunities are available Sept. 14, 22 and Oct. 1 for voters to learn about the issues and make their voices heard during upcoming elections.
***
The Northern Arizona Interfaith Council will present the 2022 Candidates Accountability Session at 7 p.m. Wednesday, Sept. 14 at Flagstaff Federated Community Church, 400 W. Aspen Ave., Flagstaff.
Launch the Get Out the Vote effort and hear positions from key candidates on Lack of Housing Options, Education, Immigration and more. 
Learn candidate positions for:
City of Flagstaff Mayor and City Council
Flagstaff Unified School District Governing Board
Contact nail.iaf@gmail.com or visit naicl.org/contact-us for more information.