Tag: Free Healthcare Professionals Support Sessions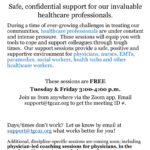 During a time of ever-growing challenges in treating our communities, healthcare professionals are under constant and intense pressure. These sessions will equip you with tools to cope and support colleagues through tough
times. Our support sessions provide a safe, positive and supportive environment for physicians, nurses, EMTs, paramedics, social workers, health techs and other healthcare workers.