Tag: Fredonia High School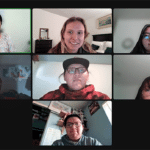 Maliya Peyketewa, a freshman at Greyhills Academy High School in Tuba City wants to become an app and web developer when she gets older. And a virtual after-school coding course offered to STEM students at her school is helping her learn one of the computer languages she can use to get there.
"I get to intertwine my computer information science class and my knowledge from coding class to make my own website," Peyketewa said. Building the website is an assignment in her computer science course, and she said she was able to add more pictures to the site because she can code. "You get to build on it and express yourself that way."
The virtual coding class, which is entering its third year at Greyhills on the Navajo Nation, is offered after school once a week for 16 weeks each spring and fall. It was started by Ph.D. students Ayla Martinez and Jeff Propster in the Center for Ecosystem Science and Society (Ecoss), who wanted to help students build professional development skills in a safe way during the COVID-19 pandemic. Martinez and Propster, who led community engagement work as part of the NAU McAllister program in Community, Culture, and Environment, worked with Greyhills STEM instructor Reny Mathew to offer via Zoom a course in R, a coding language commonly used in biology and ecology. Subsequently, Ecoss Ph.D. candidate Peter Chuckran offered introductory and intermediate courses in Python, a language with wide-ranging professional applications.