Tag: Fredonia Back-to-School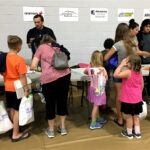 Several hundred backpacks were distributed to families at the Page Back-to-School and Community Health & Wellness Fair — A Bridge to a healthier Life!, held Saturday, July 22, 2017 at the Page High School Gymnasium.
The Page event is one of a number of back-to-school fairs held in Coconino County. Flagstaff will hold its Back-to-School & Community Health Fair on Saturday, July 29.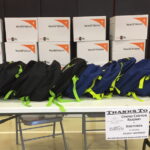 Nearly 150 backpacks were distributed by the end of the first day of the Williams Unified School District annual Back-to-School Fair held from 9 a.m. to 3 p.m. Tuesday, July 18 at the Williams Elementary-Middle School Gymnasium.
The Williams Back-to-School Fair was the first of several such events for the upcoming school year, which include back-to-school fairs in Page (July 22), Flagstaff (July 29) and Fredonia (Aug. 15).