Tag: Fredonia annual Back-to-School Night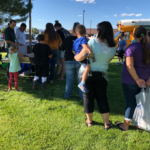 For the first time, a yellow school bus with a STUFF THE BUS sign greeted visitors in the parking lot of the Fredonia-Moccasin Unified School District during its annual Back-to-School Night on Monday, Aug. 12.
Parents and other visitors loaded the school bus with boxes and bags filled with school supplies.
Meanwhile, the Coconino Coaltion for Children & Youth joined Coconino County Health & Human Services in providing students with a variety of school supplies, including standard and colored pencils and folders, with Coconino County providing students with a number of backpacks.