Tag: food drive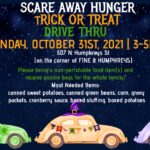 The Salvation Army Flagstaff to present Scare Away Hunger Trick or Treat Drive Thru from 3 to 5 p.m. Sunday, Oct. 31 at 507 N. Humphreys St., corner of Fine and Humphreys.
Please bring a non-perishable food item(s) and receive goodie bags for the whole family!
Most needed items: Canned sweet potatoes, canned green beans, corn, gravy, packets, cranberry sauce, boxed stuffing, boxed potatoes.