Tag: Florence Mae Karlstrom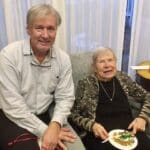 CCC&Y and community members fondly remember the life of founder Florence Mae Karlstrom who passed away on Jan. 8, 2023 in Amherst, Mass. She had recently celebrated her 100th birthday on Dec. 22, 2022.
"Many of us in Flagstaff remember Florence. The community we live in today has roots in her work, founding CCC&Y, serving on the FUSD Board, supporting United Way and the vision of early childhood education and development," wrote consultant and coach Kerry Blume, former president and CEO of the United Way of Northern Arizona.
"I am so sorry to learn of Florence's passing. … Florence also championed women's rights and was instrumental in the budding women in history programs at NAU in the early 1970's which included a cross department collaboration with Peg Morley and Katherine Nutt. Her commitment for building a better world led to focusing on children and the most vulnerable and resulted in the creation of what is now CCC&Y. She was a strong advocate for early childhood education. I worked on her successful campaign for FUSD school board and her unsuccessful campaign for state senate. A consummate community builder who led with compassion, intellect and kindness. During her 100 years many of us got to experience that warm smile and her grace.  A life well lived. Her memory will always be a blessing," wrote Coconino County District 1 Supervisor Patrice Horstman.
"The acknowledgement of all of Florence's accomplishments in her lifetime is truly amazing. I was never aware of Florence's beliefs in life. But now being aware of them, they don't surprise me. If you looked deep you would know that she was always giving of herself in a compassionate, love filled way, no matter what she did. In working with Florence most closely as we worked together on the school board, I found a woman who was strong in her beliefs, not afraid to share them and if necessary challenge others on theirs.  At the same time, her quiet love of all of those she worked with and for came through. There were always those times when she would come to me to be sure all was alright. I knew she truly cared and loved those she worked with, no matter what may be going on. She continually demonstrated her faith of love and hope by the way she lived, whether we were aware of the reason or not.  Children were always a top priority. I now wonder if we were all her children, no matter the age. How proud as a founder of the Coconino Coalition for Children & Youth she would be today, knowing of their many accomplishments. For us and our children she not only met the challenge of life, but found opportunity for the young and old in all that she did," wrote Julianne Hartzell, past board president and member of CCC&Y's Action & Outreach Committee.