Tag: Flagstaff Unified School District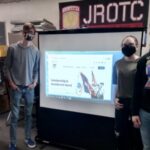 COVID-19 has presented many challenges in schools over the past year. From in-person to remote to hybrid learning, high school students across the country have faced hardships and struggles. Coconino High School Army JROTC cadets have risen to the challenge through their participation in the 2020-2021 JROTC Leadership & Academic Bowl.
After advancing through two phases of online competition, the Coconino High School's JROTC Leadership Team composed of Aidan Yoakum, Adeline Chlupsa, Caleb Morris, and Noah Burdick will compete in a Championship event in Washington, DC. The 2021 U.S. Army JROTC Leadership Bowl Championship will be held on the campus of The Catholic University of America on July 19-23, 2021. This event is sponsored by the U.S. Army Cadet Command and is conducted by the College Options Foundation.
Coconino High School's JROTC team earned top scores out of the 1,511 Army JROTC leadership teams that competed from around the world. The team is one of only forty Army JROTC Leadership Bowl teams in the nation to advance to the final competition, which includes an all-expense paid trip to the Championship event in DC. During the two fast-paced preliminary rounds, cadets were tested on their knowledge of current events, leadership values, and leadership skills