Tag: Flagstaff Unified School District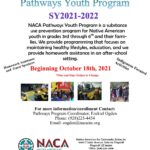 Pathways Youth Program, SY2021-2022, is seeking participants. The program began on Oct. 18. Pathways is a youth substance use prevention program for Native American youth in grades 3rd-6th and their families.
We provide provide programming  that focuses on maintaining healthy lifestyles, education and we provide homework assistance in an after-school setting.
We are partnering with the Boys and Girls Club of Flagstaff to run our programming.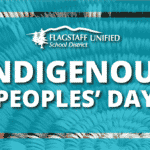 FUSD recognizes and celebrates Indigenous Peoples' Day. Indigenous Peoples' Day is celebrated on the second Monday of October. FUSD supports school district events to promote an understanding and engagement with the Indigenous peoples, traditions, cultures, resilience, and contributions.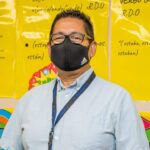 The Flagstaff Unified School District recently celebrated Legendary Teacher Day,  intended as a day of tribute to teachers who impacted learning in a positive and significant manner. The three tenets that describe a legendary teacher are: building relationships, engaging deeply with students, and creating high expectations.
This year's FUSD Legendary Teacher recipients are Luis Melo (Sinagua Middle School), Laurie Jeffers (Thomas Elementary), Julie Elliott (DeMiguel Elementary, retired), Kimberly Wertz (DeMiguel Elementary), and Terry Wilson (Coconino High School).
Congratulations 2021 FUSD Legendary Teachers!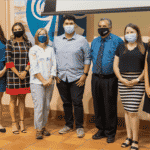 Congratulations to all educators that received honors during the 2021 Coconino County Teacher of the Year and Rookie Teacher of the Year event held September 17, 2021, at the Museum of Northern Arizona. 
Educator Lifetime Achievement Award – Joe Gutierrez, principal at Killip Elementary School (FUSD) 
Teacher of the Year – Joshua Brink of Desert View Intermediate School – Page, Arizona 
Ambassadors of Excellence – Susan Burdick of Thomas Elementary (FUSD) and Trina Siegfried of Williams Elementary School.   
Rookie Teacher of the Year – Jessica Spink of Sinagua Middle School (FUSD) 
Rookie Ambassadors of Excellence – Alianah Mijares from Marshall Elementary School (FUSD) and Larissa Stack of Mount Elden Middle School (FUSD) 
STEM Teacher of the Year – Sheryl Wells of Killip Elementary School (FUSD)
STEM Student of the Year – Oscar Landa-Samano of Coconino High School (FUSD)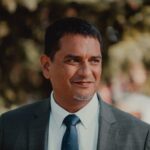 Northern Arizona University president José Luis Cruz Rivera released a statement Wednesday stating that he was starting work on longer-term plans for the university.
The university is developing a 2022-2025 Strategic Road Map that it plans to have finalized by early spring  of 2022.
"The greatest challenge facing institutions of higher education today is delivering value to prospective students and the communities they represent," Cruz Rivera said in the statement. …
The plan will focus on six areas that Cruz Rivera had previously listed as priorities for NAU, including academic excellence, "equitable student access" and success in a number of areas, faculty and staff recruitment, retention and development, community engagement and "stewardship of place" as well as of resources.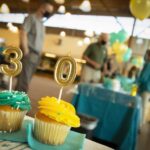 Cupcakes. Ice cream. Laughter and shared memories of service to students.
On Aug. 24, 26 and 27, friends, staff, faculty and students celebrated Coconino Community College's 30th anniversary with parties across the county. Each birthday bash was designed as a come-and-go event to ensure social distancing to help keep everyone safe. CCC's two locations in Flagstaff and at the location in Page featured comments from CCC staff, supporters and community leaders over the course of three hours in order to keep the crowd down.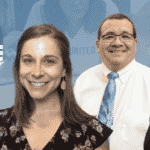 Join KinderCamp Coordinator Sara Own, President and CEO of United Way of Northern Arizona Carol Dykes, and FUSD's Director of Educational Enrichment Frank Garcia as we explore the KinderCamp summer program, the importance of registering early for Kindergarten, and health and safety procedures that will be in place for the program.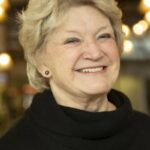 Flagstaff resident Judith Crum knows first-hand how a college education can open doors.
"Education is important, and to many, it's not affordable without help," Crum said.
So, she put her money where her mouth is. Not only is she a board member of the Coconino Community College Foundation, she recently established the Crum Family Scholarship at CCC to help CCC students afford an education.
"I felt very strongly about helping out the community college and the students who go there," Crum said. "I was raised to believe education was important. It was important in my life."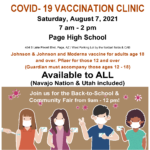 By the City of Page and the Coconino County Health & Human Resources The City of Page and the Coconino County Health & Human Resources will present a Back-to-School Community Resource Fair, COVID-19 Vaccination Clinic from 7 a.m. to 2 p.m. Saturday, Aug. 7 at Page High School, 434 S. Lake Powell Blvd., Page., West […]