Tag: Flagstaff Teachers Supply Drive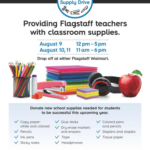 The annual Flagstaff Teachers' Supply Drive to be held Aug. 9, 10, 11 at both Walmarts in Flagstaff.
The drive will be held from noon to 5 p.m. Aug. 9 and from 11 a.m. to 6 p.m. Aug. 10 and 11.
Donate new school supplies needed for students to be successful this upcoming year.