Tag: Flagstaff Public Library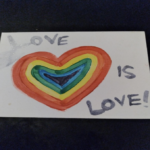 CCC&Y, in partnership with One•n•ten and Flagstaff Library, convened several Coconino youths to lead a youth pride event. Nine youth between the ages of 12-24 years old eagerly joined the planning team! During the initial meeting, the youth brainstormed several ideas possible event themes. After a short deliberation, the youth agreed to plan a paint night! 
They created the flyer to advertise the event and determined what materials would be provided to participants. They promoted the event within their networks. They brainstormed conversation starters to get youth interacting during the event. They created a playlist for participants to enjoy during the event. THEY facilitated the event!
Eight youth participated in the event and painted a picture using their pride colors! Our youth facilitator kept the conversation going, and all had many laughs! Youth leaders were given a Pride swag bag for their leadership.