Tag: flagstaff local motion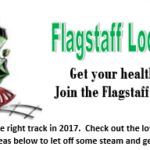 The City of Flagstaff Recreation Department offers a variety of recreation programming including: programs for adults, kids and families at the Flagstaff Aquaplex and Hal Jensen Recreation Center, ice skating at the Jay Lively Activity Center, and activities for seniors at the Joe C Montoya Community and Senior Center. Additionally, Flagstaff has 24 parks, two disc golf courses, and the Flagstaff Urban Trail System.
Coconino County Parks and Recreation offers programs for adults and youth that encourage them to get moving and get outdoors. Programs include archery, summer camp, mountain bike camp, hiking and more.