Tag: Flagstaff High School

Flagstaff High School orchestra members and alumni took matters into their own hands after finding out their holiday concert was going to be canceled.
The group had been through a string of substitute teachers after the orchestra teacher resigned her position in the middle of the semester, FHS Principal Tony Cullen said.
Orchestra member Zachary Odem said the group's fall concert had already been canceled, and the group wanted to play a winter concert.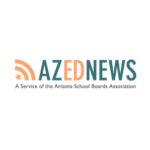 School counselors not only advocate for students and help them prepare for the future, they also are an important link between parents and school, said Katherine Pastor, school counselor at Flagstaff High School who recently was named the 2016 School Counselor of the Year by the American School Counselor Association.
"School counselors are an essential piece to the education system," Pastor said. "We are the glue that holds everything together."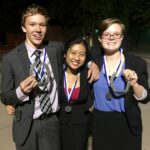 Congratulations to the Flagstaff High School Speech and Debate team who competed this weekend in the Dobson Invitational against almost 40 schools from across the nation, from as far away as Maine!
In debate, Crystal Liang made it to quarterfinals in Novice Lincoln Douglas, and Yisha Ng and Maya Holliday debated as a team to get to quarterfinals in Varsity Public Forum.

The Arizona State Board of Education's Standards Development Committee will host a public meeting to discuss the state's math and English standards.
The meeting will take place at Flagstaff High School on Wednesday, Nov. 4 from 6 to 7 p.m.

Local lawmakers toured high school Career and Technical Education (CTE) classes Tuesday (Oct. 13) to get a taste of the different skills and specialties students can learn while still in high school…. FUSD Superintendent Barbara Hickman said seeing these classes is important for lawmakers, because CTE classes took a financial hit after the state's latest budget passage.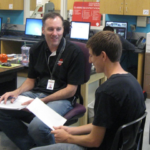 Science, Technology, Engineering and Math (STEM) is an integral part of education in every school in Flagstaff Unified School District and at every grade level.
At the high school level both Coconino and Flagstaff High Schools take the engineering in STEM education to an amazing level.

The Advanced Placement Academy at Flagstaff High School is implementing new ways to increase its enrollment, particularly among students of ethnic minorities.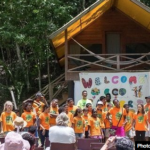 By Corina Vanek • Arizona Daily Sun
A Flagstaff High School freshman decided to forgo his summer of catching up on sleep and setting high scores on video games to travel to Belize to work as a camp counselor for a biodiversity camp.
Blake Acheson, 14, worked as a junior counselor at Chaa Creek Eco Camp in Belize, aiming to educate local children about conservation and biodiversity.
"During the camp we went o see Mayan ruins, sustainable farming techniques and talked about reducing, reusing and recycling," Acheson said.
The camp hosts 24 Belizean children, ages 8 to 13, for one week, according to the camp's website. Acheson, who arrived in Belize in early June, said organizers spent the weeks before camp preparing the crafts and activities for campers.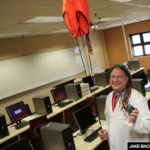 By Corina Vanek • Arizona Daily Sun By the second day of school in Bruce Sidlinger's aerospace engineering class, students will be opening up their computer's desktop tower to add the missing parts. Sidlinger, a pilot, research director and contractor to NASA and the Department of Defense, spent 2 1/2 years developing the curriculum for […]