Tag: Flagstaff High School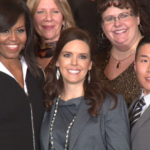 WASHINGTON – Flagstaff High School guidance counselor Katherine Pastor said it's enough to know her work helps make a difference in students' lives – but the hugs from Michelle Obama were probably nice to get, too.
The first lady on Thursday named Pastor the 2016 counselor of the year, singling her out from 42 other guidance counselors from around the country who were at the White House to be honored for their work.
"In just seven short years, Flagstaff High School has seen a 13 percent increase in college acceptance rates and a 50 percent increase in the number of colleges that visit their campus," Obama said during a ceremony in the East Room of the White House.
She said Pastor "wants nothing more than to see students succeed and become the best versions of themselves."

David Cripps may now be the Flagstaff High School orchestra teacher, but the celebrated horn player still gets asked about another performance, a long, long time ago, in a galaxy far, far away. …
Cripps played the lead horn in the London Symphony Orchestra under Grammy-winning composer John Williams when the score for Star Wars was recorded. All of the horn solo parts in the three original Star Wars movies were played by Cripps, including "Princess Leia's Theme."

Flagstaff High School orchestra members and alumni took matters into their own hands after finding out their holiday concert was going to be canceled.
The group had been through a string of substitute teachers after the orchestra teacher resigned her position in the middle of the semester, FHS Principal Tony Cullen said.
Orchestra member Zachary Odem said the group's fall concert had already been canceled, and the group wanted to play a winter concert.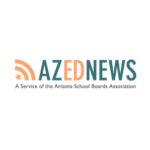 School counselors not only advocate for students and help them prepare for the future, they also are an important link between parents and school, said Katherine Pastor, school counselor at Flagstaff High School who recently was named the 2016 School Counselor of the Year by the American School Counselor Association.
"School counselors are an essential piece to the education system," Pastor said. "We are the glue that holds everything together."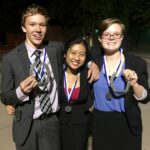 Congratulations to the Flagstaff High School Speech and Debate team who competed this weekend in the Dobson Invitational against almost 40 schools from across the nation, from as far away as Maine!
In debate, Crystal Liang made it to quarterfinals in Novice Lincoln Douglas, and Yisha Ng and Maya Holliday debated as a team to get to quarterfinals in Varsity Public Forum.

The Arizona State Board of Education's Standards Development Committee will host a public meeting to discuss the state's math and English standards.
The meeting will take place at Flagstaff High School on Wednesday, Nov. 4 from 6 to 7 p.m.

Local lawmakers toured high school Career and Technical Education (CTE) classes Tuesday (Oct. 13) to get a taste of the different skills and specialties students can learn while still in high school…. FUSD Superintendent Barbara Hickman said seeing these classes is important for lawmakers, because CTE classes took a financial hit after the state's latest budget passage.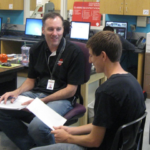 Science, Technology, Engineering and Math (STEM) is an integral part of education in every school in Flagstaff Unified School District and at every grade level.
At the high school level both Coconino and Flagstaff High Schools take the engineering in STEM education to an amazing level.

The Advanced Placement Academy at Flagstaff High School is implementing new ways to increase its enrollment, particularly among students of ethnic minorities.