Tag: Flagstaff High School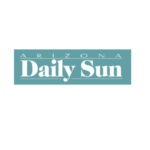 One of Coconino County's best teachers is leaving the state because he's fed up with Arizona's low funding for schools.
2014 Coconino Teacher of the Year Jeff Taylor announced in a March 24 letter to the editor that he and his family were leaving Flagstaff High School and the state at the end of the school year.
Taylor is the chair of the AP Academy at FHS and teaches AP chemistry and environmental science. He is also a member of the Flagstaff Education Association and has served on the salary and benefits negotiation committee for FUSD for five years.
"It wasn't just one thing that drove us away," he said.