Tag: Flagstaff Festival of Science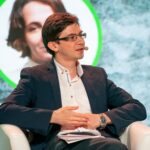 Kostiantyn Viatkin is a graduate student working with Yiqi Luo and his lab with the Center for Ecosystem Science and Society (ECOSS) at Northern Arizona University. The lab focuses on applying their unique matrix-model approach, which can be used to create standardized models. By standardizing the models used to predict land impact on climate change, it will allow us to gain a better understanding of what goals should be set globally to help mitigate climate change. 
Kostia focuses his research on the impact of land carbon on climate change, specifically how climate scientists can improve the accessibility and transparency of models of land carbon. "An aspect that I'm particularly interested in is the mineral part of soil and how it affects the carbon cycle". The mineral aspect of soil is all of the inorganic components, including sand, loam, and weathered rock.