Tag: Flagstaff Festival of Science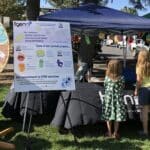 The 2021 Flagstaff Festival of Science kicked off this past Friday with the W. L. Gore Keynote Presentation: "When Stones Speak: Decoding the Messages Embedded in Ancient Maya Monuments" with Dr. Jaime Awe of Northern Arizona University.
That event was followed Snook's Science in the Park, which featured local science and technology organizations with science experiments and demonstrations at Wheeler Park in downtown Flagstaff. The festival continues through Sunday, Sept. 26.
During the park event, youth had the opportunity to explore life-saving medical devices with innovators and engineers under the W. L. Gore & Associates tents, view the talented athletes from Momentum Aerial as they leap and spin above the ground, with young people exploring the world of magnets at the Coconino Coalition for Children & Youth tent.