Tag: Flagstaff Festival of Science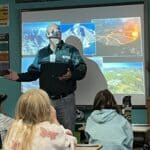 As students file into their 4th grade class at Sechrist Elementary, a photo of molten lava is streaming out of a volcano. "Volcanoes are Awesome!" is written across the top. There is a presenter at the front of the class that the kids aren't familiar with, but that cool photo with hot lava catches their attention! Today, volcano expert, Greg Vaughan, is speaking to the class today about his work.
"What is a volcano?" he asks. Hands across the room shoot up. "Yes," says Greg pointing to a student. "A mountain with lava inside;" "A mountain that was formed by tectonic plates and the magma has erupted." He asks them what comes out of volcanoes and students guess ash, lava, smoke. Greg passes around ashes and a "volcano bomb" and each student can touch and hold items that were once inside of volcanoes!