Tag: Flagstaff Festival of Science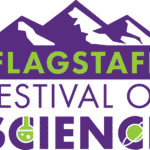 To signal the renewal of its commitment to innovation in Science, Technology, Engineering, the Arts and Mathematics (STEAM) education, the Flagstaff Festival Science Board of Directors announces a redesign of its brand identity.
The new brand look features a fresh new logo, color palette and accompanying text elements, but is designed to recognize the success of the Festival's legacy brand. The first Festival of Science was held in 1990, and since then has grown to become the longest running, entirely free public science festival in the U.S., reaching thousands of people of all ages in the Flagstaff community and beyond. 
Featuring dark purple and bright green, the brand's primary colors evoke the legacy logo, along with an outline of the San Francisco Peaks. New elements such as the beaker and planetary body icons represent the Festival's focus on cutting-edge science.