Tag: Flagstaff Festival of Science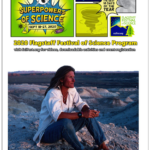 The 31st annual Flagstaff Festival of Science is nearly here, and that means it's time to participate in the "Best 10 Days of the Year." This year, we celebrate the Superpowers of Science through more than 60 FREE events for all ages from Sept. 18-27!
Each year, the Festival's all-volunteer Board of Directors works to help you indulge your curiosity. This year has presented a special kind of challenge as we tried to find ways to engage and excite you while observing social distancing, but thanks to our innovative partners and technology, we are thrilled to bring you a wide variety of fun and educational events, including online presentations, virtual workshops, classroom talks and guided tours, led by Flagstaff scientists.
This year's Festival will look a little different, but we continue to emphasize hands-on learning with free science kits; interaction with scientists through online platforms; and opportunities to explore through self-guided tours, socially distanced walks and outdoor activities.
And, as always, we will kick off the Festival with an exceptional ballet performance. On Friday, Sept. 18, the NAU Community Music and Dance Academy will present "The Caped Crusaders of Science" at 6:45 p.m., followed by our W. L. Gore & Associates Keynote Presentation with Earth scientist Christa Sadler, "Tapping into the Superpowers of Science" at 7 p.m.