Tag: Flagstaff Festival of Science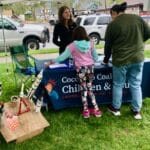 A slight drizzle on the first day of Fall didn't dampen the fun when families came out to the annual Snook's Science in the Park on Sept. 23, 2023 at Wheeler Park in downtown Flagstaff.
Part of the annual Flagstaff Festival of Science, which continues through Oct. 1, the park event featured a number of hand-on activities for young people.
Youth had the opportunity to explore life-saving medical devices with innovators and engineers under the W. L. Gore & Associates tents, view the talented athletes from Momentum Aerial as they leap and spin above the ground, with young people launching their own mini rockets and learning about the science behind rocket propulsion at the Coconino Coalition for Children & Youth exhibit.
The 10-day festival features a mix of in-person activities, live streamed webinars and pre-recorded videos. A full listing of events is available by going to scifest.org and clicking on the 2023 digital passport. Events that require a reservation are denoted on the passport. 
All Festival events are FREE.