Tag: Flagstaff Early Childhood Fair — "Full S.T.E.A.M. Ahead!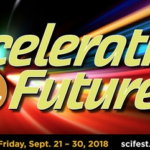 The 2018 Flagstaff Festival of Science, "Accelerating into the Future," will explore the astounding changes our lives may take in the next few years. 
The FREE, award-winning 10-day Festival, Sept. 21 – 30, 2018, will showcase signature events such as Science in the Park (10 a.m. to 2 p.m. Saturday, Sept. 22 at Wheeler Park, 212 W. Aspen Ave., Flagstaff) and SCI Talks, as well as field trips, guided interpretive hikes, archaeological digs, hands-on workshops, panel discussions and presentations.
The W. L. Gore & Associates Keynote Presentation: "Self Driving Vehicles: Accelerating into the Future," features Raj Rajkumar, Ph.D., professor of Electrical/ Computer Engineering, at 7 p.m. Friday, Sept. 21 at NAU's Ardrey Auditorium. 
Free tickets at the door for first-come, first served. Or pick up or print out tickets in advance through the NAU Central Ticket Office (nau.edu/cto; 928-523-5661).
(New this year to the festival will be the Flagstaff Early Childhood Fair — "Full S.T.E.A.M. Ahead!," from 10 a.m. to 1 p.m. Saturday, Sept. 29 at at Flagstaff High School, 400 W. Elm St., Flagstaff. Vendors still needed. CLICK HERE for the vendor registration form and HERE for more information. Vendors interested in participating in the fair can send their completed registration forms to earlychildhoodfair@gmail.com)