Tag: first things first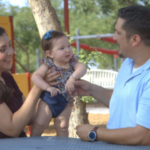 An estimated 5% of kids under age 5 were missed in the 2010 census. That's about 1 million young children, the highest of any single age group. The U.S. Census is asking early childhood supporters to help close that gap in 2020.
Here are a few things you can do to help ensure more young kids are counted: Explain that filling out the census yourself only takes about 10 minutes. And emphasize that parents should include babies on census forms, even if they are still in the hospital on April 1.