Tag: first things first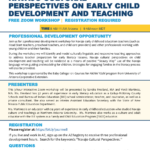 The Baby College 101: Courses for Ałchíní Yázhí program from University of Arizona Cooperative Extension is offering a professional development workshop for Navajo Head Start teachers, preschool teachers, child care providers and other professionals who work with young children or their families.  
Navajo Cultural Perspectives on Early Child Development and Teaching will be presented by Sandra Freeland, MA and Verdi Martinez, MA. Both have over 20 years of experience in early literacy education and Navajo culture and traditions. During the interactive three hour workshop Ms. Freeland and Ms. Martinez will identify and model culturally linguistic and responsive teaching approaches to address teacher preparation for early literacy lessons. Navajo cultural perspectives on child development and teaching will be validated as a means of positive "Beauty Way" use of the Navajo language when guiding and modeling for children. Strategies for engaging families in the literacy process will also be provided.