Tag: Family Involvement Center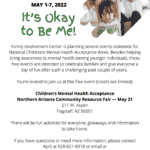 The Children's Mental Health Acceptance Week Northern Arizona Community Resource Fair will be held from 9 a.m to 1 p.m. Saturday, May 21 at the Flagstaff City Hall, 211 W. Aspen, Flagstaff.
There will be fun activities for everyone, giveaways and information to take home.
You're invited to join us at this free event (tickets are limited).
Family Involvement Center is planning several events statewide for National Children's Mental Health Acceptance Week. Besides helping bring awareness to mental health among younger individuals, these free events are intended to celebrate families and give everyone a day of fun after such a challenging past couple of years.