Tag: Family Connection Meeting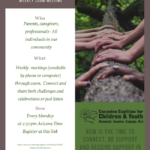 COCONINO COUNTY — The Coconino Coalition for Children & Youth is presenting a weekly Family Connection Zoom Meeting at 2:30 p.m. Mondays.
The meeting is open to parents, caregivers, professionals — All individuals in our community.
Now is the time to connect, be supportive and receive support in a safe and caring environment via zoom or by telephone.
This is an open time to connect with others, share joys, vent some concerns, ask for support, or offer others your support.