Tag: FACTS Lights On Festival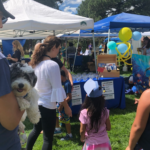 From ping pong toss games followed by exercise for children, to a rock climbing wall, line dancing and a trip around the park via a Kiddie Caboose, hundreds of families came to Bushmaster Park in Flagstaff to enjoy a variety of activities at the annual FACTS "Lights On" Festival held on Sept. 7, 2019.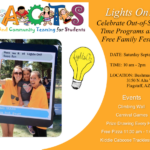 FACTS is holding their annual Lights On Festival this Saturday, September 7th, at Bushmaster Park. Lights On Festival is a free celebration to recognize the importance of after-school programs. There will be games, prizes, food, and more! Make sure to come out this Saturday from 10 AM to 2 PM to support everything that FACTS and other Out-of-School Time programs do for our students, families, and community!