Tag: Expect More Arizona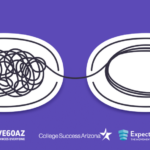 May is Mental Health Awareness Month. The Achieve60AZ | College Success Arizona | Expect More Arizona team has compiled a list of mental health and behavioral health resources and programs that can be found around Arizona and utilized by students and parents throughout the K12-postsecondary pipeline. Resources in the region include Health Promotion: Mental Health and the Mental Health Support Squad at Northern Arizona University; and the CARE Program at Coconino Community College.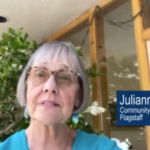 Arizona is extremely fortunate to be home to tens of thousands of smart, caring, dedicated education professionals. And while they have done everything to ensure their students are learning, the global pandemic has taken an incredible toll on the social emotional well-being of teachers, education leaders and school staff. It's Teacher Appreciation Week May 3-7 and while every day is a great time to thank a teacher, now is better than ever.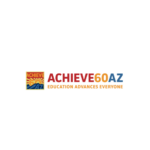 In early February, we announced that Achieve60AZ, College Success Arizona and Expect More Arizona were joining forces to create an enhanced organization. Our goal is to work together to significantly improve Arizona's P-20 education system and demonstrate meaningful progress on the Arizona Education Progress Meter goals.
Over the past two months, we have been working with our Board, Community Leaders Advisory Council, the combined staff, and others to design our strategic plan. It is also important to us to hear from you to inform our work ahead.
We have created a brief survey to ask for your feedback on a set of key questions. We would greatly appreciate your help in completing the survey, which should take fewer than 15 minutes. Your feedback will be very helpful to inform our strategic plan.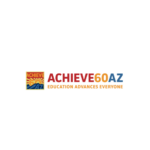 It was a very quiet week at the Capitol with most progress slowing to a crawl. While legislators are focusing on work behind-the-scenes, there's not much happening in public. There are 145 bills waiting for a hearing in either the House or Senate Rules Committee and almost all connected to funding and may be included in budget discussions.
You'll see more from us in upcoming emails about what we'd like to see in the budget. One of those items is funding to re-launch the Preschool Development Grant (PDG). Read our recent op-ed in The Arizona Republic, authored in partnership with the Arizona Early Childhood Alliance and the Arizona Early Childhood Funders Collaborative, that talks about COVID-19's significant impact on early educati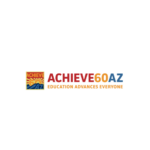 Arizona has set a lofty goal: By 2030, 60 percent of adults in the state, ages 25 to 64, will hold a postsecondary credential or degree. This statewide goal to achieve a more highly trained and educated population ensures a brighter future for Arizona and for all of us. To get there, we must think outside of the traditional pathways to attainment.
A new issue brief, Arizona's Public Service Promise, highlights the importance of engaging and supporting adults over age 24 to earn postsecondary credentials. As the brief outlines, one of the most effective ways to connect with Arizona adults is through their employer. For approximately 300,000 adults in Arizona that employer is a public entity.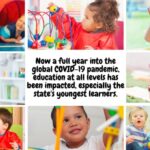 Now a full year into the unprecedented COVID-19 pandemic, education at all levels has been impacted; in some ways, it's forever changed. And the students who are most likely to face the longest-term effects are also the youngest.
In recently updated data, the Arizona Education Progress Meter showed a decline of 3% in Quality Early Learning over the past two years. Enrollment in quality early learning among Arizona 3- and 4-year-olds now stands at 19%, down from 22% two years ago. Arizona must take quick action to reverse this decrease and ensure all children have a strong start to their education, which is foundational to their future success and Arizona's ability to meet the goals in the Education Progress Meter.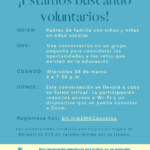 We are looking for volunteers for a virtual conversation.
WHO: Parents of school-age children
WHAT: A small group conversation about opportunities and challenges in education
WHEN: Wednesday, March 24 — 6 to 7:30 p.m.
WHERE: This will be a virtual conversation. participation will require access to wi-fi and a device that can connect to ZOOM.
REGISTER TODAY: bit.ly@EMACoconino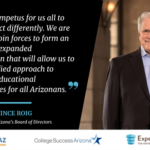 Three leading Arizona education entities—Achieve60AZ, Expect More Arizona, and College Success Arizona—announced on February 2 that they are pooling their resources and teams to become one organization. Rich Nickel, president and CEO of College Success Arizona since 2012, will lead the consolidated organization.
The enhanced organization, which will be renamed later this year, will create a strategic plan that will include a cohesive education agenda to reach the goals outlined in the Arizona Education Progress Meter and support the success of all Arizona children and adults along the education continuum, from early learning through postsecondary attainment. The Education Progress Meter goals were developed to support a broadly shared vision—that all students, regardless of their background, income, or zip code, deserve equitable access to a high-quality education at every level.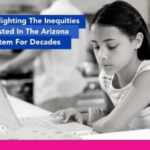 MAPA evaluates, measures and reports on the state of Latino education, power and influence. It is intended to be a transparent tool that reflects on the organization's own efforts as well as those in the ecosystem that have an active role to play in moving the needle forward for Latino youth in our state. The virtual summit unveiled the results of the report and connects the dots between all the issues and policies that have been stacked up against Latino students for decades.
Latinos make up the majority of Arizona's K-12 student population, representing 46% of the population. Yet Latinos make up only 13% of school board members, and 16% of the teaching workforce in Arizona, meaning critical decisions are not being made with the valuable perspective and wisdom that the Latino community brings to the table.