Tag: education tax increase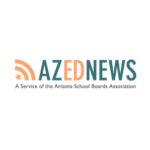 What are the details in Gov. Doug Ducey's budget proposal for public K-12 education and higher education? And what is the economic outlook for Arizona? Find out here.
Click here for Arizona School Boards Association's summary of the Governor's budget proposal
Staff members of the Governor's Office of Strategic Planning & Budgeting presented details of Gov. Doug Ducey's Fiscal Year 2021 budget proposal during a press conference that began at 2 p.m. Friday, Jan. 17, 2020.