Tag: Education Forward Arizona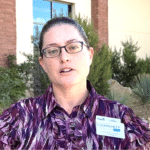 First Things First recently gathered community members from northern Arizona to discuss how the child care crisis is impacting their local communities.
The Aug. 15 forum at Twin Arrows conference center outside of Flagstaff was the second of a planned set of quarterly forums to be held throughout the state on Strengthening the Child Care Workforce. The first forum was in Thatcher in eastern Arizona. …
Listen to Laura Rosensweet from Education Forward Arizona talk about brain development and how access to quality, reliable care makes a difference for early childhood learning, as well as its importance for working families.