Tag: Education Forward Arizona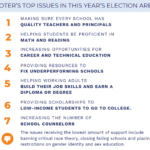 Education Forward Arizona conducted a poll of Arizona voters to better understand voters' priorities for education. The survey complements and is intended to go deeper on the findings in the Arizona Voters' Agenda, in coordination with the Center for the Future of Arizona. The survey was conducted May 10-17, 2022 by HighGround Public Affairs on behalf of Education Forward Arizona, a statewide nonprofit and nonpartisan organization. 
What we found is that Arizonans deeply care most about the issues that will support good teaching and learning, not the political hot button issues that often get the most attention. Voters want to see candidates discussing key education issues, many of which are aligned with meeting the Arizona Education Progress Meter and Achieve60AZ attainment goals.